The International Conference on Case-Based Reasoning (ICCBR) is the premier, annual meeting of the CBR community and the leading international conference on this topic. Researchers will present the latest results of their work and discuss future directions for the field.
GLOBAL CHALLENGES FOR CBR is this year's conference theme, to direct the community's attention to the pressing issues that impact us all, such as sustainability, climate change and global health crises.    This year we pose the question: "What can CBR do to meet these challenges?"  Accordingly, this year's conference welcomes and encourages submissions and participation from members of the AI and CBR communities – whether they be researchers, policy makers or practitioners — on these global challenges.  In this respect, we look forward to  a variety of submissions; they could be position papers or roadmapping proposals, as well as traditional basic or applied research papers.
WELCOME TO FRANCE!  The 2022 edition will be located in Nancy, France. The program will include keynote addresses, a main technical track, a workshop program, a doctoral consortium, and other events, with several connections to this theme. We warmly welcome participation from all researchers and practitioners who have interest in case-based reasoning, including those who are working on related topics but have not previously attended ICCBR.
EXCITING KEYNOTES.  Invited keynotes will be given by Prof Cynthia Rudin (Duke University, USA), Prof Sutanu Chakraborti (Indian Institute of Technology-Madras, India) and Prof Xiaohong Gao (Middlesex University, UK)
SEVERAL WORKSHOPS will be held alongside ICCBR. Check the workshop list page for more information!
Don't hesitate to participate to the Explainable AI Challenge!
The Proceedings have just been published as part of the Lecture Notes in Computer Science series (LNAI 13405), now available online and can be accessed at:
 http://link.springer.com/openurl.asp?genre=issue&issn=0302-9743&volume=13405.

MEMORIAL DEDICATION.  ICCBR 2022 is dedicated to the memory of Prof Cynthia Marling, who passed away on September 7, 2021 in San Diego (USA). Cindy was a Program Co-chair for ICCBR 2019, she was a passionate advocate for the CBR community and a welcoming mentor to early-stage researchers in the area. We will all miss her this year. May she rest in peace.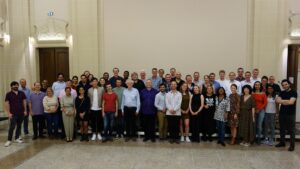 Link to ICCBR photo gallery: here
Sponsors